DR. ALI RAZA NAQVI
FRCP (London), MRCP CCT General Internal Medicine, MRCP CCT Diabetes & Endocrinology
Consultant Physician, Diabetologist & Endocrinologist
Department of Diabetes & Endocrinology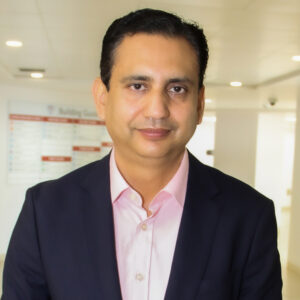 Diabetes & Endocrinology and General Internal Medicine / Acute Medicine.
Dr. Naqvi graduated from Allama Iqbal Medical College, Lahore in 2002. Dr. Naqvi started his training with a foundation programme in Yorkshire. He completed his Core Medical Training from North Wales. Afterward, he started his specialist training in Diabetes & Endocrinology and General Internal Medicine from Imperial College Health Care NHS Trust.  Dr. Naqvi has been working as a Consultant Physician and Endocrinologist in England since 2017.  He has over 18 years of clinical experience working in different hospitals in the United Kingdom.
Dr. Naqvi also served as a GMC-accredited Clinical and Educational Supervisor of trainees and contributed significantly to the teaching and assessment of final-year medical students from Southampton University and Imperial College, London.  Dr. Naqvi took on the role of Lead Principal Investigator for the Recovery Trial at St. Mary's Hospital, New Port, whilst undertaking all his other duties and received an NIHR and CRN Wessex Award in May 2021 for his "Outstanding contribution to COVID- 19 Research During the Pandemic". Alongside this, Dr. Naqvi has encouraged and supported his trainees to publish and present case reports at local and regional meetings and has presented himself at Endo Bridge, European Congress of Endocrinology, and British Endocrine Society Meetings as well as publishing papers in international journals.
Type 1 / Type 2 Diabetes, MODY, secondary Diabetes, post-transplant-related diabetes, and gestational diabetes
Diabetes-related complications, including Diabetic nephropathy, retinopathy, and peripheral neuropathy
Management of diabetes with an insulin pump and continuous glucose monitoring
He also takes a keen interest in treating the following Endocrine Disorders;
Women with polycystic ovary syndrome, infertility, menopause, and amenorrhoea
Erectile dysfunction, testosterone deficiency, and hypogonadism
Thyroid disease, goitre, thyroid cancer, parathyroid disorder
Disorders related to bone and metabolism, osteoporosis, Vitamin D deficiency
Lipids and metabolic disorders
Obesity and Medical Weight Management
Diseases of the Adrenal Gland
Neuroendocrine tumours
Essential hypertension and secondary hormones related hypertension
Pituitary-related hormone disorders, including Hyperprolactinemia and short stature.
Cushing disease, acromegaly, growth hormone deficiency
Diabetes Insipidus
He has a Special Interest in developing many new services at PKLI which include;
Diabetes foot clinic
Community Diabetes
Multidisciplinary team (MDT) insulin pump clinic
Diabetes /kidney Clinics
Diabetes/Liver Clinic
Multidisciplinary Weight Management Clinic
Thyroid Clinic with Nuclear Medicine
MBBS (Bachelor of Medicine & Bachelor of Surgery) from AIMC, Lahore, Pakistan
MRCP Diabetes & Endocrinology
FRCP London
MRCP CCT General Internal Medicine (Imperial College Health care NHS Trust, London)
MRCP CCT Diabetes & Endocrinology (Imperial College Health care NHS Trust, London)