DR. ASIF IQBAL
MRCS (Ireland), FCPS, Intercollegiate FRCS, Masters in Surgery (Ireland), CSD (Ireland & GMC)
General, Gastrointestinal and Bariatric Surgeon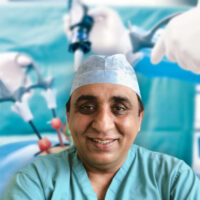 Advance Laparoscopic Surgery including Bariatric and Complex benign Upper GI surgery, Gastrointestinal Oncological Surgery, Surgery for Liver metastasis, Hernia surgery and complex abdominal wall reconstructions.
Dr Asif Iqbal graduated from Quaid-e-Azam Medical College in 2003. After completing his General Surgery Residency (FCPS) at Services Institute of Medical Sciences/Services Hospital, Lahore, he moved to Ireland in 2011. During his stay in Ireland and U.K., he worked in various centres of excellence, including St. Vincent's University, Dublin, University Hospital Galway and University Hospital of Wales, UK, to pursue super-specialisation in oncological and advanced minimally invasive Surgery. On passing the Intercollegiate FRCS in General Surgery, he was awarded a Certificate of Specialist doctor and is on the Specialist Register of the Medical Council of Ireland and GMC UK. Throughout his training, he took different administrative and leadership roles. He has undertaken numerous Audits and Quality improvement projects. He has obtained Leadership and Quality improvement certification from the Royal College of Surgeons and a Masters in Surgery (MCh) from the University of Galway, Ireland. He actively participated in developing a National Bariatric Surgery Programme in Ireland and maintained the National Bariatric Surgery database. He has been continuously involved in many research projects and has numerous national and international publications.
This extensive surgical training and experience have equipped him with the skill set and confidence necessary to manage the diverse range of elective and emergency General Surgical sub-specialities. He specialises in Gastrointestinal Oncology, Bariatric, and Hepatobiliary surgery. He is also a well-trained and accredited gastrointestinal endoscopist. He has performed over 1000 upper gastrointestinal endoscopies, a third of which have been interventional (Oesophageal dilatations, insertion and removal of oesophageal stents, G.I. bleeding – endostasis and PEG tube insertion) and over 800 diagnostic and therapeutic colonoscopies.
Before joining the PKLI Dr Asif Iqbal worked as a Consultant General and Gastrointestinal Surgeon at Saolta University Health Care Group, Galway, Ireland.
General Surgery
Bariatric/Weight loss Surgery
Gastrointestinal Oncology Surgery
Hepatobiliary Surgery
Vascular Access Surgery
Diagnostic and Therapeutic Upper and Lower G.I. Endoscopy
MBBS (Bachelor of Medicine & Bachelor of Surgery) from Pakistan
FCPS  (College of Physicians and Surgeons Pakistan) in General Surgery from Pakistan
ECFMG Certification from USA
MRCS from Ireland
Intercollegiate Speciality Board FRCS
Masters in Surgery (MCh) from University of Galway, Ireland
Certificate of Specialist Doctor-CSD from Medical Council of Ireland & GMC, U.K.
Fellowship training in Gastrointestinal Surgery from University Hospital Galway, Ireland
Training in Vascular Surgery from University Hospital Galway, Ireland
Fellowship training in Bariatric Surgery from St Vincent's University Hospital, Ireland
Fellowship in Hepatobiliary Surgery from University Hospital of Wales, UK