Department of Internal Medicine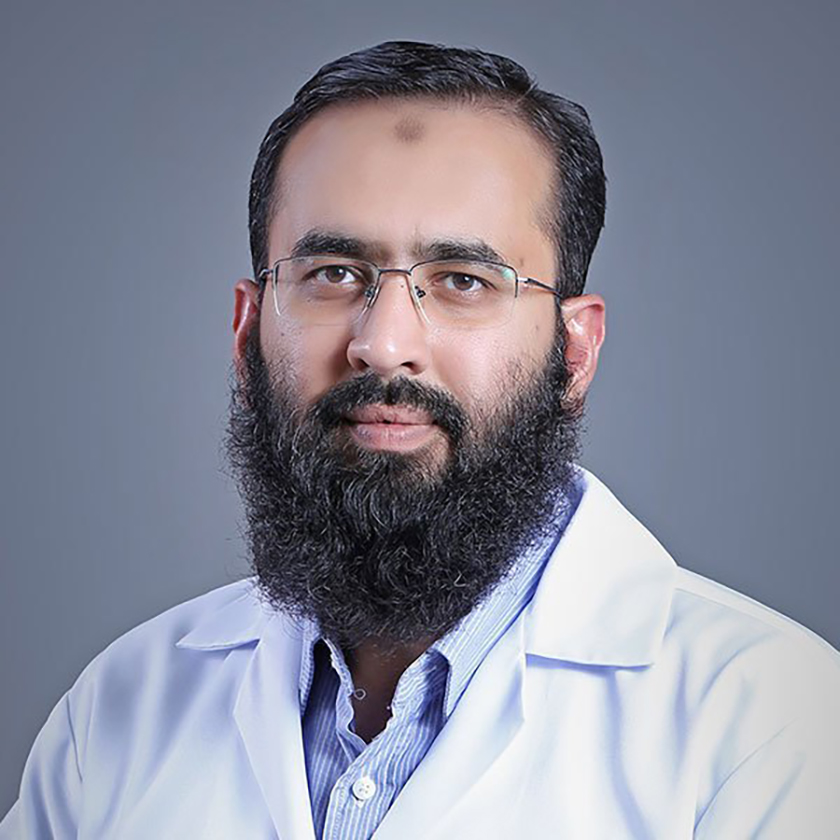 General Psychiatry, Medical ethics & Medical education
Dr Khan is a Fellow in Psychiatry from CPSP and a post-graduate alumnus of Aga Khan University, Karachi (AKUH). He is also an alumnus of the Center of Biomedical Ethics & Culture / SIUT Karachi, the only institute in Pakistan for training in Biomedical Ethics. He has completed a Professional Diploma in Healthcare and Hospital Management and currently pursuing a master in Medical Education.
He has worked as a Consultant in AKUH, Assistant Professor at Majmaah University Saudi Arabia, and for a brief period in Northampton, England as an MTI fellow. He has the experience of working as a Coordinator Clerkship Psychiatry and Module Coordinator in AKUH and Majmaah University, respectively.
He was awarded the Best resident award in 2011 from Aga Khan University.
His publications are:
Khan F, Khan RAM, Role modelling: A missing link in medical education, JPMA, (2018); 68 (11): 1554-1555 (Editorial)
Bhimani M, Khan F, Arfeen T, Khan RAM. Vitamin D status in psychiatric patients in Karachi, Pakistan: a retrospective case notes review. RMJ. (2015), [cited September 15, 2015]; 40(3): 266-26
Khan F, Bhimani M, Arfeen T, Zaman M. Conversion Disorder in Young People of Karachi: a 20 years retrospective review. Isra Medical Journal 2014; 6(4):285288 [Corresponding author]
Khan F, Arfeen T, Bhimani M, Zaman M, Nadeem T. Pattern of Child Psychiatric emergencies and consults in a tertiary care hospital,
Karachi. Journal of Pakistan Psychiatric Society. 2014;11(1):21-23 [Corresponding author]
Khan F, Arfeen T. Ten Commandments for a Prompt Ethics Review Committee Approval. RMJ. 2014; 39(2): 113-114 (Editorial) [Corresponding author]
Khan, F., Chong, SA., Kuah, BT, & Pickering, N. (2013) "Case Study: Treating medical professionals and colleagues: the duty to disclose for public safety versus patient confidentiality", Asian Bioethics Review, September 2013: Vol 5,(3): 240-241
Khan F, H.A. Naqvi, "Child Psychiatry in Pakistan: A growing Torment", Editorial, JCPSP June 2013: Vol. 23 (6): 381-382 (Editorial)
Patel MJ, Ahmer S, Khacvn F, Abdullah W, Shehzad F &Muzaffar S. "Benzodiazepine use in medical out-patient clinics: prevalence study from a developing country" JPMA June 2013: Vol. 63 (6): 717-712 [Corresponding author]
Khan F, Bhimani M, Afreen T. "Pediatric Bipolar Disorder-An Orphan Diagnosis", JDUHS, 2012: Vol 6(1): 36-38 [Corresponding author]
Bhimanil MM, Khan MM, Khan MFA, Waris MS. Respiratory dyskinesia-an under-recognized side-effect of neuroleptic medications (vol 61, pg 930, 2011). Journal of the Pakistan Medical Association. 61(10):1049-
Khan F., H. A. Naqvi "Evidence-based treatment of schizophrenia: Do we know enough?" JPMA, 2011; Vol. 61, No. 5
Ahmer S, Khan F, Bhimani M. Psychiatric presentations of sexual dysfunction in Pakistan. Journal of Pakistan Psychiatric Society, 2010;7(1):18-22
PUBLISHED ARTICLES IN NEWSLETTERS
Khan F. "Makkah Clock Tower", Bioethics links, June 2012; Vol 8 issue 0, available from http://www.siut.org/bioethics/Newsletter%20June,%202012.pdf
Masters in Medical Education (Scholar 2020-present)
Professional Diploma Healthcare and Hospital Management — 2017
Post-Graduate Diploma — Biomedical Ethics 2012
FCPS (Psychiatry) — 2012